SpiritLive is a 24-hour a day, 7 days a week internet broadcaster, produced by students of the RTA School of Media from our studios in Ryerson University's Rogers Communication Centre.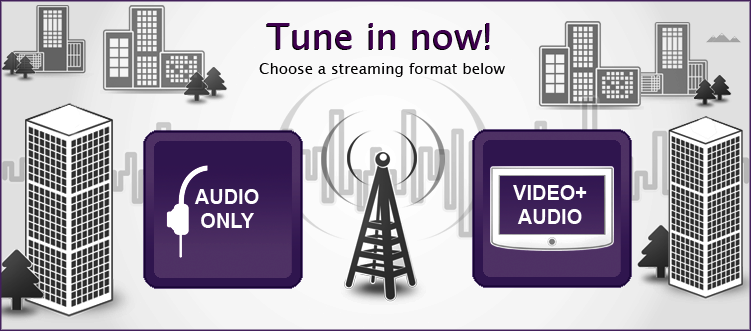 *Streams open in a pop-up window. Ensure that your browser is configured to allow pop-ups.*
Click here for Spirit2, our secondary audio channel, streaming live events and RTA class productions.
February 23, 2015
Artist: Hey Rosetta! & Stars
Date: Thursday, February 12th, 2015
Venue: Danforth Music Hall
By Laura MacInnes-Rae
I must admit, until tonight I was indeed a Danforth Music Hall virgin. Only now can I wholeheartedly deem the concert hot spot my new favourite venue in Toronto. I arrived in haste just as Hey Rosetta! performed their final song "Welcome." If unfamiliar, it features just a taste of the musical talent these Newfies possess. During the bridge, front man Tim Baker's isolated guitar rang out full throttle into a reverb welcomed by the hall's walls. The group is touring in support of their latest album, Second Sight, released this past October.
An unlikely bill, the transition between sets took a little getting used to. Stars' stage scene was far less humble, with neon laser lights and a large illuminated band banner. But front man Torquil Campbell showed no hesitance in welcoming the audience with what appeared to be a dramatic summoning of energy, staring eyes-closed and poised facing the crowd. The band's haunting harmonies shone as they performed tracks like "You're Ex-Lover is Dead" and "Calendar Girl" as well as more pop-concentrated material including radio hit "Trap Door," off their most recent album No One Is Lost.
The Montreal-based indie poppers consist of five primary members, with vocalist/guitarist Amy Millan and partner/bassist Evan Cranley also playing in Broken Social Scene.
During their performance of "Hold On When You Get Love…," Campbell made the crowd roar when he switched the lyrics "and the radio won't play it," to "and only Indie88 plays it" (the Toronto shout out very tongue-in-cheek). He commanded the audience, singing "put your hands up cuz everybody dies"; fans followed while the band engulfed the building in a massive bubble of sound during the chorus of "No One Is Lost." The mix of new material and older sentimental tracks off "Set Yourself on Fire," with hints of an Arcade Fire sound danced through the air; songs that celebrate and romanticize nights spent out were embraced by the energetic congregation of party people.
The electric chemistry between Campbell and Millan was evident, weaving themselves around each other during harmonies, which complimented some of their more romantic-themed material. They both put on an engaging show, each of them radiating in satisfaction, feeding off of the audience's energy. The pair's stage theatrics suggest a deep bond and musicianship between the two. After all, Stars is no stranger to the stage, performing for the past 15 years, their most recent of 6 studio albums was released in October 2014. Campbell held back no words in his acknowledgement of the fans' loyalty and support, pausing the set to give them a lengthy, sincere thank you.
After their three-night residency at the Danforth Music Hall here in Toronto this past weekend, Hey Rosetta! and Stars will be continuing their North American tour to promote both of their new releases.
Visit our Facebook page for more photos.
---
February 14, 2015
By Aidan D'Aoust
Take a moment and imagine that you're Drake. Sounds great so far, right? OK, now imagine that you're Drake and it's getting closer and closer to Valentine's Day. You're hip-hop's love martyr, destined to live out the rest of your life in utter emotional anguish for the benefit of your own art. You're Heartbreak Drake, it's two days before Valentine's Day, and you exist in a cold world where unlimited money, power, and success isn't enough to find love. The worst part of it all? You're about to spend a day hearing about all of the lucky ones who don't have that problem. But you're Drake and you can shift society's attention onto yourself by dropping a mixtape full of one-liners, switch up flows, and surprise features…so in the fear of spending another Valentine's Day alone, you drop "If You're Reading This It's Too Late".
I spent the last two days listening to Drake's new mixtape and will now explain it, track-by-track, the only way my generation can: through the power of emojis (with annotations for those of you over 23).
 
Legend:

Money taught Drake Spanish. I wish Mrs. Lopez gave me money in grade 3. Maybe I would've been rich and bilingual.
Energy:

His acting days are over because he's on the way up. But Drizzy Domestic still has time for the family in Canada.
10 Bands:
Drake's not taking your calls, he's too busy flexing and counting his bands…which he then gives up doing because there's simply too many. Maybe he'll unmute his phone now.
Know Yourself:

Running through the 6, counting cash, and driving expensive cars. You know how that goes! Except no you don't, because you're not Drake.
No Tellin:

There's no telling, because Aubrey doesn't snitch.
Madonna:

You could have been as big as Madonna, but you made other plans. Oh no, no, no.
6 God:

Drake with the statement track. He's got us praying for that new album, comes off looking cool as ever and establishes the church of the 6ix.
Star67:

The phone is disconnected. Someone's asking Drizzy to leave a message. Lotta talk about phones.
Preach (ft. PARTYNEXTDOOR):

We're doing beach things in Miami! Hey, drinks for all of the ladies that couldn't make it out! Man, we're all having so much fun…why are we still sad?
Wednesday Night Interlude:

Oh no! Now PARTYNEXTDOOR is lonely too? For real, it sounds like he's swimming in his own tears. Drake, you need to get new friends, this is getting unhealthy for you to be around, dawg.
Used To (ft. Lil Wayne):

Just a couple of best buds sharing bars and throwing shade at their label.
6 Man:

The gift that keeps on giving for the Toronto Raptors. This time it's Lou Williams who's getting the bump. Also, our boy reminds us that he has the work ethic of a single mother.
Now & Forever:

He's leaving. Where to? Probably somewhere expensive.
Company (ft. Travi$ Scott):

You can't hurry love Drake! Especially if you're flat out admitting you're a dog. Travis Scott rushes in and jangles the keys, hoping for us to forget how sad our boy is. Too late La Flame…the damage is done.
You & The 6:

Drake, if you're trying to get your parents back together, using Home Alone and Game Of Thrones references probably won't help. Unless they actually watch Game of Thrones, in which case, they're pretty cool.
Jungle:
Why aren't you making time for Drake? He's really trying to make an effort here and you just done broke his heart again.
6PM in New York:

Oh, the world that would've been had Drake pursued his fallback career in the computer industry. If only he pursued Silicon Valley as much as he pursues women on Instagram.
You can buy "If You're Reading This It's Too Late" on iTunes. Look out for Drake's next project "Views From The 6″ when it drops later this year.
---