SpiritLive is a 24-hour a day, 7 days a week internet broadcaster, produced by students of the RTA School of Media from our studios in Ryerson University's Rogers Communication Centre.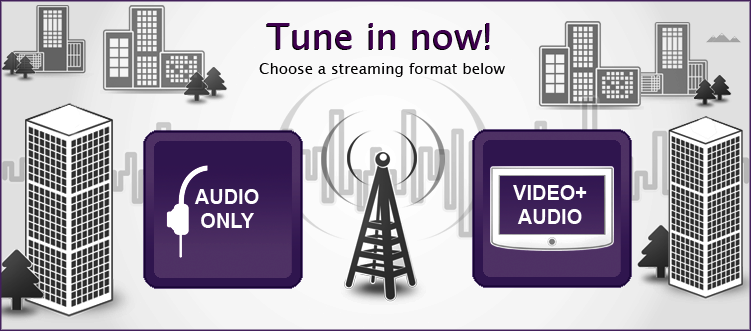 *Streams open in a pop-up window. Ensure that your browser is configured to allow pop-ups.*
November 24, 2014
Artist: clipping.
Album: CLPPNG
By Trey Robinson
If you're looking for a challenge, try listening to clipping.'s new album, CLPPNG. Their "alarming" track titled "Get Up", featuring Mariel Jacoda, uses a full 3 minutes of an alarm clock beep intended to represent a rhythmic synth. clipping., the Los Angeles-based trio, consists of rapper Daveed Diggs and producers Jonathan Snipes and William Hutson. Snipes is also a sound designer, film composer, and experimental musician. He and William Hutson are in the noise band Unnecessary Surgery and were recently behind the score for the documentary Room 237. The trio released their debut studio album Midcity in 2013, after Snipes and Hutson recruited Diggs to lay some original rap vocals on their power-electronic compositions.
CLPPNG, their sophomore offering, opens up with "Intro", which includes a full minute of painfully high-pitched, dissonant, screeching guitar feedback – a signature of noise musicians. Diggs raps cypher-style to set the initial mood; in other words, to tell us that it actually is a rap album, despite the experimental sounds.
Upon hearing Diggs' flow, listeners may feel another Schoolboy Q is in the making, especially on "Work Work," where Diggs really shows off his skills on the hook. Snipes and Hutson do a great job of featuring unique, creative sounds that challenge listeners. The two producers effortlessly mix a metallic bell sound bite with a big, fat, in-your-face bass synth on the aforementioned track. The bells almost seem as if they were manually recorded and then sampled into music. They give the song a certain 'je ne sais quoi'.
Despite the tremendous effort, most of the songs on CLPPNG still have very static arrangements and sometimes miss some of the essential elements of a hip-hop beat. Something to dance to would be great, along with more drums, especially when considering the intended genre of this album. The album has  creativity in spades, as it's clear the trio pushed experimentation to the limit: mixing film-type scoring with hip-hop style vocals. I am curious to see what clipping. has in store for fans next, for better or for worse.
Rating: 6/10
---
November 21, 2014
By: Margarita Brighton
SPIRITlive caught up with Saskatoon Indie-Rock quartet Close Talker  in the middle of their North American tour. Their release of Flux has garnered the band much attention, including a 7 week stint in CBC Radio 3′s top ten.   Exclaim noted that the album "pairs peppy drums with spacious keyboard tones and reverb-drenched guitar shimmers." We sat down with guitarist Matt Kopperud to discuss their new record and their westward upbringings.
You're relatively new, up and comers. How did the band formulate?
Kopperud: Chris, Will and I had known each other for a long time both musically and socially. Chris and I grew up together since kindergarten and picked up our first instruments in grade 6 and learned Smoke on the Water together. Shortly after we met Will who eventually joined a band with Chris. After highschool a mutual friend asked us all to form a band to play cover songs at a wedding dance, which is where we met Jerms, our bassist. We only had time to plan an hour-long set which we stretched into two hours, playing songs such as a groovy version of Sunday Morning by K-os and straight up hick version of Sweet Home Alabama which we had to play again so the groom's dad could bust out an organ to play a solo over the intro. Jerms was one of the groomsmen and was the life of the dance floor with his infamous finger-wag dancing. That night was definitely a catalyst (chemistry reference for Jerms) for starting the band.
The night was fun enough to make us consider pursuing an open mic in Saskatoon but we needed a bassist, so we got ahold of Jerms and here we are three years later still playing Sweet Home Alabama every single set. Just kidding.
[Laughs] I'd like to hear a "Sweet Home Saskatoon" cover from you guys. And hailing from Saskatoon, would you say your upbringings have affected your music?
Kopperud: I would say in a round about way living and growing up in Saskatoon has affected our music. How exactly? That is a good question. Saskatoon has some pretty extreme climate as it can be +40 or -40 Celsius within a few months span. With this, we are forced to be creative in the winter because it is near impossible to go play outside. I remember actually practicing piano as a kid in the winter because it beat going out and getting frostbite. Saskatoon is home to many artists and creative people. It is a great place to have grown up and we really do love it here.
Speaking of artists, what records are you spinning right now? Who are you currently listening to?
Kopperud: 
War on Drugs – Lost in the Dream
Royal Canoe – Today We're Believers
Talk about Flux. What was the inspiration behind the record? What was it like working with Jace Lasek?
Kopperud: Flux means being in periods of change. Lyrically, the album is exactly that for us. It marks a change in the band in writing style and sound, but also how it has affected our immediate lives and perspectives and plans and futures. This band has greatly affected all of our lives in different ways.  From relationships to jobs, to even how we operate in our everyday lives, putting this band as more of a priority has changed a lot of things and that is what most of the songs are largely about.  Musically the record didn't really need any inspiration in particular. We simply had to keep writing as a band and push our selves. It only seemed logical that it would be released as a coherent album.
Working with Jace was amazing. Initially it was sort of nerve racking going into a big city to work in a cool studio with a big producer, but Jace quickly demolished any nerves and made us feel at home right away. By the middle of the first week we all started calling him uncle Jacky and we still call him that to this day. He was great creatively and he was even better at ensuring the vibes in the studio were fun and a place where we could perform well and get our best passes at the songs.
"The West Was Won" spent 7 weeks in the top ten of CBC Radio 3. How does it feel that it was so well reviewed?
Kopperud: It feels great to be recognized and to have people listening to our music. That is all any band can ever hope for. "The West Was Won" is an older song of ours that we don't play anymore, but it served its purpose and got some exposure for us. Our hopes are that people will listen to all our material, but mostly our new record 'Flux' as we feel it best represents where we are. Our new material is far more meaningful to us lyrically and musically. We feel it has more depth and is more honest to who we are and what we are into artistically.
What's up next for Close Talker?
Kopperud: We are currently on tour in North America behind our new record 'Flux'. We are doing some US dates which is a first for us and we are playing across Canada. Following that we will be pretty quiet as some of us are finishing up our degrees in January. We hope to go back to Europe sometime soon and write more music throughout the winter. We are already excited for new things to come.
Tour Dates:
10/16 Lethbridge, AB – The Slice
10/25 Saskatoon, SK – Prairieland Park
11/12 New York, NY – Piano's
11/13 Brooklyn, NY – Spikehill
11/14 Toronto, ON – The Garrison
11/17 Hamilton, ON – The Casbah
11/18 Kingston, ON – Clark Hall Queens University
11/19 Ottawa, ON – Mavericks *
11/20 Neuville, QC – La Source
11/21 Montreal, QC – O Patro Vys (M for Montreal)
11/25 Los Angeles, CA – Hotel Café
11/26 San Francisco, CA – Hotel Utah
11/29 Vancouver, BC – Biltmore Cabaret
11/30 Portland, OR – White Eagle
12/01 Seattle, WA – Rendezvous
12/02 Victoria, BC – TBA
12/03 Kelowna, BC – Habitat
12/05 Calgary, AB – The Palomino Smokehouse
12/06 Edmonton, AB – The Starlite
12/11 Regina, SK – The Exchange
12/12 Saskatoon, SK – Capitol Music Club
* with High Ends
Check out more music by Close Talker at closetalker.ca
---